...Just got back actually, and you know when something crashes from a great height and hits the ground it bounces up again before bottoming out on the ground. Well the "bounce" was yesterday, and after an 11 and a half hour flight, today I feel like shit. So I'm just going to post pictures and tell the story.
I started off in Manchester, landed after NY for CMJ. Went to the hotel, slept for a few hours then myself and my co-worker/amazing friend Jamie met up with the Prayers boys (www.myspace.com/thefuckingprayers). Jamie and I are their parents basically. Here is a photo of the group: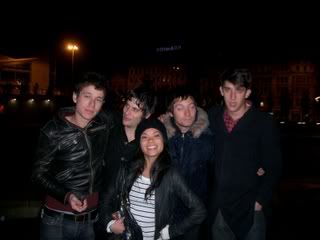 Mind you, this is around 4am, and everybody is kinda trashed. Top Deck: Brandon, Joel, Charles, and Andrew. Bottom Deck: Jamie. Setting: Piccadilly Square.
After City won 1-0 over Birmingham we had a nice dinner to celebrate Charles' birthday then we returned to the Midland Hotel to regroup. 3 of the Prayers friends came up from Scunthorpe and we ended up drinking in the 2nd floor lobby for a good 3 hours. After getting booted from the lobby we decided to get more beer and continue on. Mind you, Jamie and myself were pretty tired and pretty sober, but remember it's Chuck's birthday. We were traveling in a pack of nine when the drunkest of the bunch Brandon made friends with some locals and they invited us to a house party outside of Manchester. Great idea, so 9 of us boarded the bus (thanks to my corraling) and we headed out towards Moss Side (THE GHETTO). First house party was a bust, upon coming in (beers in hand!?!?) some local kids wanted to beat the shit out of us. It was a little flat and they had a fuckin techno DJ with 4 turntables (CD) set up...bonkers. So there was ANOTHER house party down the road and 15 minutes later we were there. This party was far better, here is the crowd: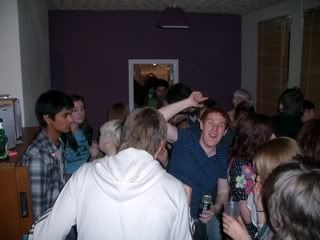 University Students dancing around. There was also a crazy basement, and a backyard...the house was fucking trashed.
So we rolled in about 6am, that was day 1. Happy Birthday Chuck.
The second day featured The Prayers actually playing a gig at South. We had slept in most of the day and just got some food then went to the venue for the show. It was great, they played well it was a nice touch. After that we went to the famous Roadhouse in Manchester for an ITC show, but we were late and shit had ended 2 hours ago...whoops. The band met a guy who was part of the old Man United firm, had trained with Ricky Hatton, and was ABSOLUTELY FUCKING HAMMERED. We called him Gary i think. He threw a "you know what" through a "you know what's" "you know what"....we'll just leave it at that. He passed out and went nuts and we stumbled home smashed and took this picture in the park of the Prayers: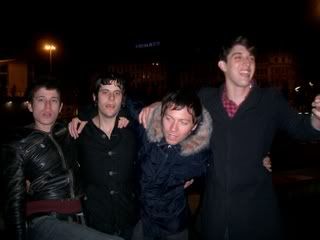 End Day 2, like 5am...so not my style
The next day we woke up late (go figure) and Jamie and I split up from the Prayers boys (as they had to soundcheck) and we headed to easily my most favorite museum on the planet, The Urbis. They had an exhibition all about the Hacienda dedicated to the late Tony Wilson which is amazing. We hit the gift shop like a bastard and I picked up some stuff at Virgin, including MOST IMPORTANTLY UK books about soccer that you can't get in the US (because no one cares)! Then we met up with the boys at Curry Mile in Souf Manchester. The show was very very very special for one reason, which I will come to in a minute, but here is the Prayers set photos.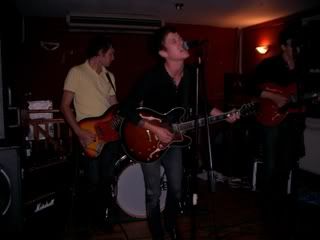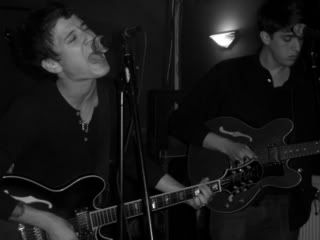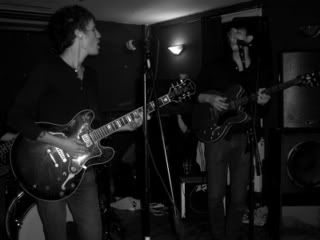 The promoter of the show was a nice guy, but shit was fucked, there were 30 bands on the bill, no fucking backline (which the prayers needed), and no organization. We showed up early and just chilled. Chuck and I got a pizza at a Kebab place...not bad, but there was definitely some anti-white remarks! YES! So I was told to put someone on the list by the name of Mark E Smith, I said...yeah whatever...so full of it. 30 minutes later, i look outside and who do I see? MARK E SMITH. I posted about him a few blogs ago...serious...NUTSO! I hit up my peeps Schmalz and Jen to spread the news, it was remarkable. Here is a pic to prove it:
Now the night was full of Mark E Smith moments that I am not spreading or typing up so if you want to no hit me up otherwise I state this. 1) He was not one bit like I thought he would be. He was really really cool, bought beers all night, and it was really nice. 2) He really liked The Prayers and called them "Brilliant." All the other bands paid homage to the Prayers too who were easily a huge step above the rest. 3) Mark was so cool that he came back into the city centre with us and hung at the hotel until early in the morning, fucking mega. 4) Mark and I spoke about The Fall, Henry Rollins, Tony Wilson, Joy Division, the whole lot....and what he had to say was pretty amazing.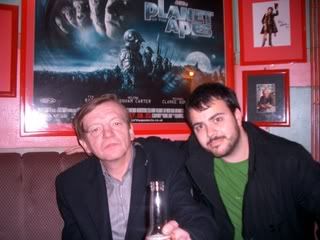 Me and Mark E at a Sci-Fi bar he likes. Easily a highlight in my wee life.
The next day we woke up and went to London, but I will have to save all that info for another post....but here are the pics from London:
Keys To London: Runnin with the Ronson camp at YoYo London with Sean Lennon, Daniel Merriweather, Poppy LaFond, and LaCrate. K-West Bar for 20 dollar Vodka Tonics. A Very Famous Artist, Tim Burgess in Camden, Bumping into Geri Haliwell (Spice Girls), Lots of Shoreditch/Hoxton nonsense, and drinking way more than I ever have.