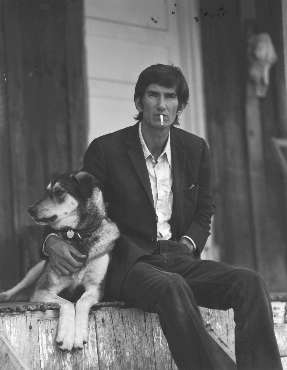 Townes Van Zandt (March 7, 1944 - January 1, 1997)
I first discovered Townes about 3 years ago when I was living in New York. His haunting version of "Dead Flowers" (which the Stones made famous) was featured in the Big Lebowski and on the soundtrack, an absolute winner. From there I wanted to hear more. I remember reading about him as a dead singer-songwriter and not hearing about an untimely demise which is usually showcased. For some reason the stuff I had read neglected to reveal Townes' battle with alcoholism and drug usage that certainly took years off his life. A wonderful documentary showcases Townes' contributions to music entitled
"Be Here To Love Me"
released last year by Palm Pictures. Go pick it up, or I comment and I can send you a screener copy I have. It really puts it all together nicely, and it's not one of those documentaries that is painful to watch unless you are an uber-fan.
Townes style is really basic, just a poet with an acoustic guitar, almost always very low key, small venues, and a true road dog. He is a true cult hero and a staple in the Austin music scene (with some great Austin City Limits performances). His only real "hit" was Pancho and Lefty, and became a hit because it was recorded by Willie Nelson and Merle Haggard in 1983. Many artists covered his songs to their benefit, but Townes just did his own thing, I don't think it bothered him, and I'm sure he liked the extra money.
Here a few tracks off of "Live At The Old Quarter" recorded live in Houston on July of 1973, which I really recommend picking up. Really good when you are driving up the 5 freeway and you have hours of open road.
Townes Van Zandt - Waiting 'round To Die
Townes Van Zandt - Pancho And Lefty
Townes Van Zandt - Tecumseh Valley
Townes Van Zandt - Tower Song