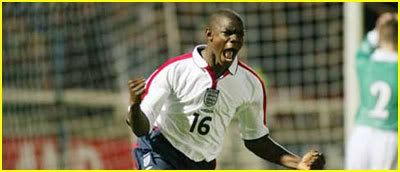 The Piece of the Pie Fantasy League I created hasn't quite been the drama it could have been (as only a few people pay attention), but I just want to pat myself on the back about one thing.
Micah Richards
! Since day 1, I have had this homeboy on my team and lord has it paid off. He currently sits at #10 for points in the Defender catagory. Not shabby at all, especially seeing as this is his first year as a solid in the starting XI for the glorious Manchester City Football Club. We share the same birthday (June 24th), but the difference is this guy just turned 18 years old. Richards burst on the scene last season when he was brought during injury time in the FA Cup vs Aston Villa, a goal down, and he headed in the equaliser
(see below)
. After that match he gained some notoriety when he was asked how it felt, the first words out of his mouth were
"fucking hell"
. He got into a bit of trouble for that.
I had the pleasure of seeing him in person when I was in Manchester, for the Manchester City V Middlesborough clash of the north. He played a solid game, as he has been doing so this whole season. As well, an injury time equalising volley versus Everton a few weeks back brought a tear to my eye...my boy is growing up. He recently made the starting XI for England for their bout with the Netherlands, and became the Youngest defender to start in England history (previously held by Rio Ferdinand). Bravo, even you non-football fans will soon be hearing his name. The best decision in my fantasy career!