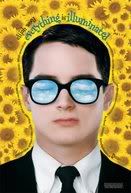 Everything Is Illumated
was originally a
novel
by author Jonathan Safran Foer. In 2005 it was made into a movie directed by Liev Schreiber and starring Elijah Wood. I am usually not a fan of Elijah Wood, but shit, I liked Green Street Hooligans and Lord of the Rings was the bomb. He was shitty in Radio Flyer though....yeah. Anyway, I saw this movie last night and I highly recommend it. The direction is wonderful, and at many times Alex (played by Gogol Bordello frontman Eugene Hutz) is funny as shit.
As well the movie features some great "eastern bloc" music, here are some samples:
DeVotchka - How It Ends
(featured in trailer)
Paul Cantelon - Prologue: Babushka
Gogol Bordello - Start Wearing Purple
(great live by the way)
As a bonus, after the film a lot of the music reminded me of the band
Beirut
. If you have yet to pick up their album and you are of Ukranian/Lithuanian/Russian descent as I am, well check it out. Yeah, my first kid is going to be named Andriy, what.
Beirut - After The Curtain