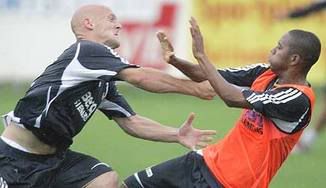 Gravesen (Denmark) Vs. Robinho (Brazil) but both or Real Madrid
SAME TEAM ASSHOLES!
Gravesen = 6'0 / 165 pounds / 30 Years Old
Robinho = 5'7 / 136 pounds / 22 Years Old
Perhaps they had a "language barrier" issue, Danish Vs. Portuguese, I never have understood how football players communicate on teams that have players from so many different countries. Anyway, my
krones
(danish currency)
are on Gravesen in a fight, but on the pitch Robinho is 10 times as lethal and is quickly become the next brazilian superstar whose name starts with
"R."
Look back in history perhaps...Ronaldo (aka Fat Ronaldo), Ronaldihno, Rivaldo, Romario, and Ribery (oh wait, he is French, but played like a Brazilian when France knocked them out of the cup). Well anyway, it signals the end for Gravesen as he has been told by Real that he should go back to England and play in the Premiership, even though he likes Madrid and likes the bench. I know a lot about football for a full blooded American, I should take that asshole Nick Webster's job, I liked him until I saw him at the Chelsea signing where he reeked of douche. Well anyway, music...
Quick Question: What is the difference between Electronic and Electronica? I am confused and I would like to know.
Monday night I was out catching the band
Clayhill
open for Beth Orton. They are an English 3 piece that consist of an empty handed singer, a guitarist, and an upright bassist. It was very nice and mellow, and had the KCRW/borderline-Adult Contemporary vibe. Anybody considered AC is my least favorite artist to see live, the crowd annoys me beyond belief, go to a Keane show and you will know what I am talking about. Any show where wine out sells beer (minus the Hollywood bowl of course) is not a place I want to be. You need to have either Bud Light or Stella flying off the shelves for a good/tolerable crowd. Either way Clayhill did quite well and the guys worked with Beth on her new album which made it nice that she brought them all the way to America for a full tour even though their albums are only available in the Europe. Check out the tracks below and let me know what you think.
Clayhill - Northern Soul
Clayhill - One Nerve
Thursday brings me out to my least favorite regularly attended venue in LA, The Echo.
My Brightest Diamond
is/are gracing the stage and I am eager to check her out. Her new album "Bring Me The Workhorse" drops August 22nd on Asthmatic Kitty and it is very good. It reminds me a little bit of Emiliana Torrini (yeah, dropping the obscure shit), Bjork, and all those random female Massive Attack vocalists. After the show at the Echo with Nick Castro and Princeton, she embarks on a full US tour opening for Sufjan Stevens...Asthmatic Kitty remember. Catch her now because that Sufjan (pronounced Soof-yawn, no Surf-John) show will sell out (if it hasn't already), and you know you don't want to be with that crowd at the Wiltern.
My Brightest Diamond - Something Of An End
My Brightest Diamond - Workhorse
Enjoy, leave comments.