This morning I awoke early, barely being able to sleep at the chance that I could meet the Chelsea Football Club. Honestly I am not a huge fan of Chelsea (it's like rooting for the Yankees), but when you have players like Andriy Shevchenko, Didier Drogba, Frank Lampard, Arjen Robben, and John Terry (to name just a few), well it's like the All-Star team, and definitely the who's who of the World Cup. I arrived down at the 3rd St Promenade before 10:30am to find a line of already 100 people (signing started at 2pm)! Luckily, I was early and I recieved a place holder ticket. At 11am the doors opened where we were informed that we should purchase something Chelsea as that is what they would be signing, so I went for the new home kit (newly designed by Adidas). It was a stampede and it made me think of when the Stella McCartney line was introduced at H+M in New York and I saw in the Post about all these women going ape-shit. Within a minute everything was gone, but lucky me I grabbed a nice XL kit that is going to look nice on the wall in my new office.
Fast foward 3 and a half hours and I'm in line in the numerical order corresponding to my ticket and heading into the store in a small group. Upon entering, I see the squad looking good. I managed to snap a good amount of photos and shook hands with Michael Essien, Didier Drogba, Frank Lampard, Andriy Shevchenko, Arjen Robben, and John Terry. It was all good fun, the guys were very nice, and I think they were quite suprised at the massive turnout. I got all that were present to sign the kit (I know off hand, no Ballack, Makalele, or Crespo) and it was good fun. I am definitely a football nerd and on Friday when I heard about this I lost my shit. The woman behind me asked me how I knew every player and all about them, it was humbling. Definitely a good day, pictures below.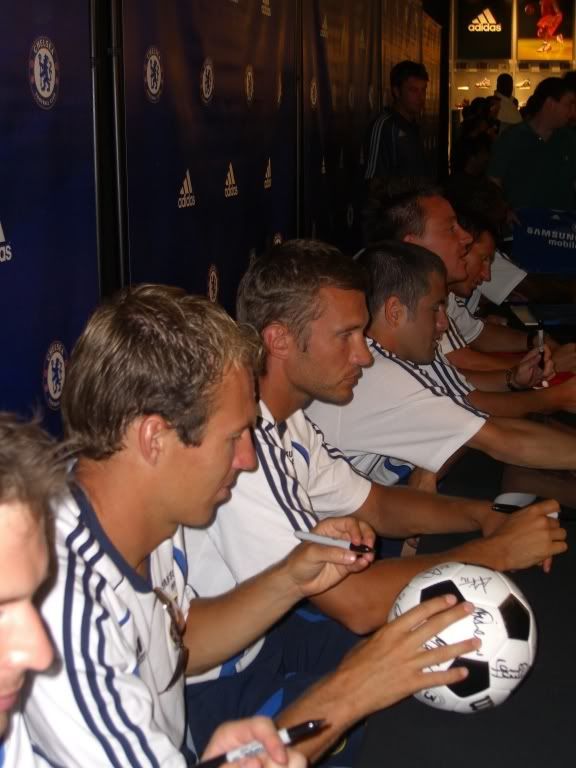 Robben, Shevchenko, Cole, Terry, and Lampard
Shevchenko and Cole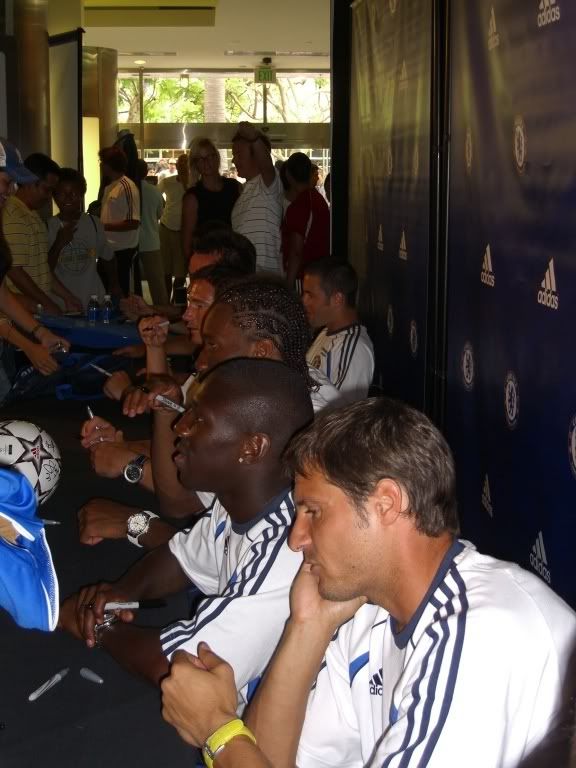 Cudicini (i think), Wright-Phillips, and Drogba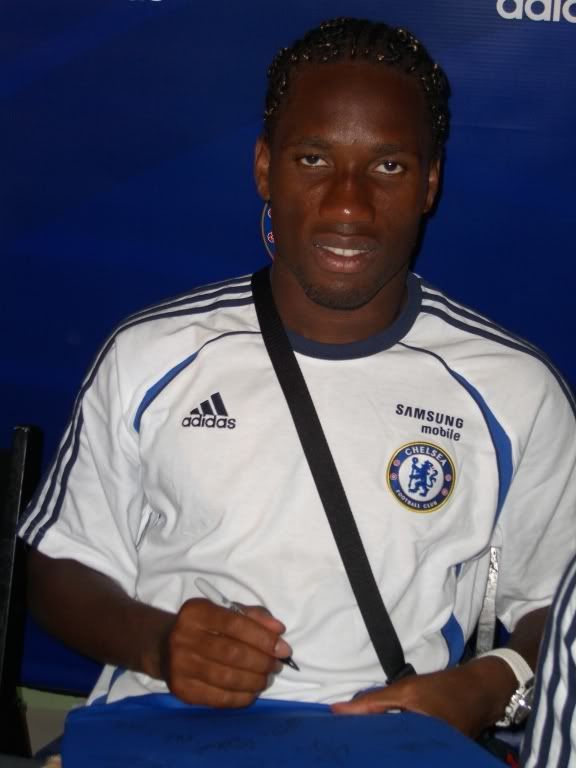 Didier Drogba, the pride of the Ivory Coast, easily one of the best strikers in the world...
Next week = Barcelona Vs Chivas Guadalajara, hell yeah.